TRANCE MIXX 5
DOWNLOAD / ENJOY
Every MP3 is zipped for faster downloading.
All MAC computers should unzip the files automatically once downloaded.
If you do not have an unzipping program installed on your Windows computer, you will not be able to
unzip / extract.
Download jZip, a FREE windows program built to unzip every
Da SkeeT .zip file.
After downloading just unzip / extract the file(s) and enjoy.
To unzip a file via jZip, just open the .zip file with jZip and extract the file to your desired location.
If you experience problems while downloading / extracting any files please contact us.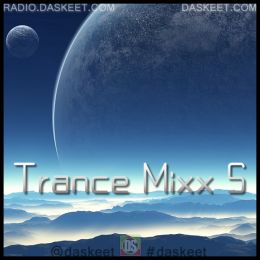 COMPLETE MIXX / TRACKS
Download Complete Mixx
TRACKS (9)
Clockwork - Deadmau5

Silence - Delirium feat. Sarah McLachlan (Tiësto remix)

Rain - Armin Van Buuren

Alone Tonight - Above & Beyond

Anjunabeach - Above & Beyond

Rush Hour - Armin van Buuren

Everything - Tiësto Feat. JES

The World Is Watching Me - Armin Van Buuren Ft. Kush

Falling - First State Feat Anita Kelsey (Tiësto Remix)
SOCIAL MEDIA
You can also access this page with a shorter domain "tm5.daskeet.com"
DS RADIO